Physical Purity Testing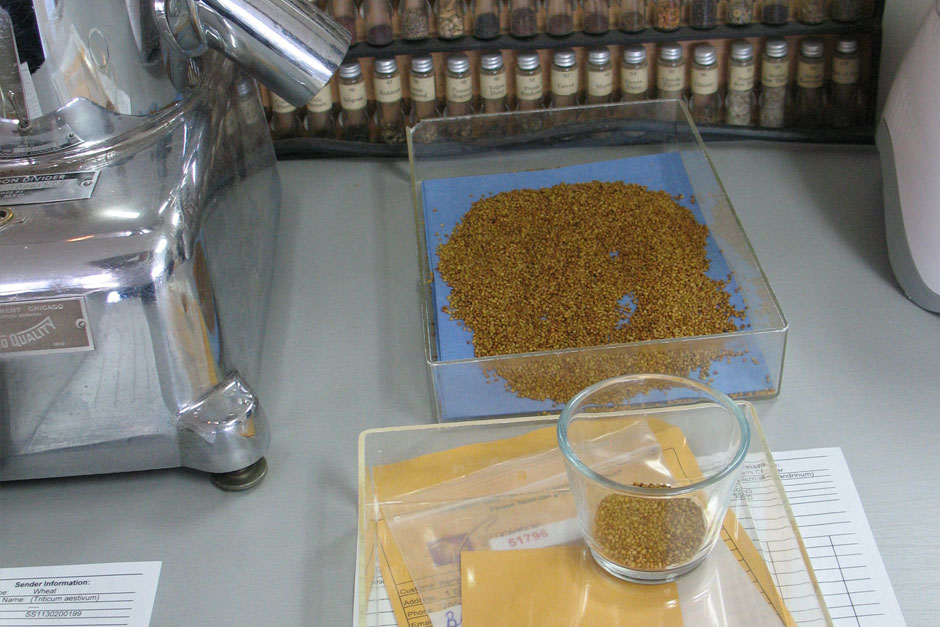 The purity test is analysis that determines the composition of a seed lot. It is a test required by the Canada Seeds Act to determine whether or not a lot makes a Canadian seed grade. It is also useful information to the producer planting the seeds. It can tell you if other crop kinds, fungal bodies or weeds that you do not have or want in your area exist in a seed lot. It will also tell you the number of these contaminants so that you can keep from planting large quantities of them with your crop. Many weed species can be extremely invasive and difficult and expensive to control once established.
There are two main areas used in physical purity testing. One is the percentage test. The other is the numbers by count or search of a particular weight of seed.
The Percentage Test:
This test breaks the quantity analyzed down into these main components:
Pure Seed, Other crops, Weed Seeds, Inert matter, and ergot or sclerotia bodies. The results are expressed as a percentage by weight. Different weights are examined for different crop kinds with a goal of looking at approximately 2500 seed units. This test is especially important when planting really chaffy species or kinds that are prone to be high in contaminating species. The percentage pure seed in combination with the germination test helps determine seeding rates.
Examination by Count (Purity):
This test is an examination of known quantity of a seed lot for contaminants. Different weights are examined for different crop kinds with a goal of looking at approximately 25, 000 seed units. Contaminants are retrieved and classified into different categories including:
Prohibited noxious weeds, Primary noxious weeds, Secondary noxious weeds, other weed seeds, other crop kinds, ergot and sclerotia bodies and others as required.
Other tests offered include Weed checks and Seed or Plant identifications.
Seed Check has on staff experts in physical purity testing in the areas of grasses/forages, native seeds, Canola/Mustards, cereals, pulses, and vegetables/flowers. They are constantly training and upgrading to ensure accurate results.